The Third Constituent Charter of the Council (Rada) of the Belarusian Democratic Republic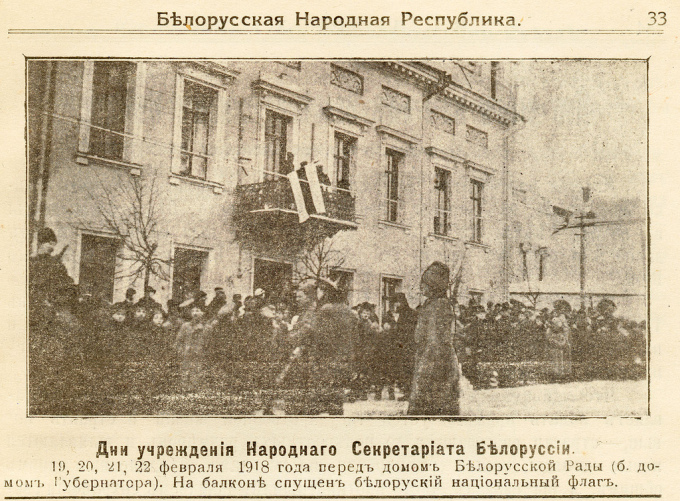 The Third Constituent Charter is the key document passed by the BNR Rada. The Charter was approved on the night from 24 March to 25 March 1918 and declared Belarus an independent state.
Since then, 25 March is celebrated as the Independence Day of Belarus, or Freedom Day (Дзень Волі).
Below an English translation of this historical document.
***
A year ago the peoples of Belarus, together with the peoples of Russia, threw off the yoke of Russian tsarism, which had oppressed Belarus most of all and, without asking the people, precipitated our land into the conflagration of war which totally destroyed Belarusian cities and villages. Now we, the Council (Rada) of the Belarusian Democratic Republic, havze cast off from our native land the last vestige of national dependence which the Russian tsars imposed by force upon our free and independent land. From this time on, the Belarusian Democratic Republic is proclaimed an independent and free state. The peoples of Belarus themselves, under the aegis of their Constituent Assembly, shall determine the future national relations of Belarus.
By virtue of this, all former national relations lose their force – relations which made it possible for a foreign government to sign the Treaty of Brest for Belarus, thus destroying the Belarusian people by partitioning their land.
By virtue of this, the government of the Belarusian Democratic Republic will establish relations with interested parties by proposing to them a review of that part of the Treaty of Brest which concerns Belarus and the signing of peace treaties with all belligerent states.
The Belarusian Democratic Republic should include all those lands where the Belarusian people constitute a numerical majority, namely: the Mahileŭ region, the Belarusian parts of the regions of Miensk, Horadnia (including the cities of Horadnia, Biełastok, and others), Vilnia, Viciebsk, Smalensk, and Čarnihaŭ, as well as adjacent parts of neighboring gubernias, inhabited by Belarusians.
The Belarusian Democratic Republic confirms all those rights and freedoms of the citizens and peoples of Belarus which were proclaimed by the Constituent Charter of March 9, 1918.
Proclaiming the independence of the Belarusian Democratic Republic, its Council expresses the hope that all freedom-loving peoples will assist the Belarusian people to achieve fully their political and national ideals.
The Council (Rada) of the Belarusian Democratic Republic
Given by Miensk, Belarus
March 24, 1918